LEDdriver L05013NS 1-20VA 700mA
Features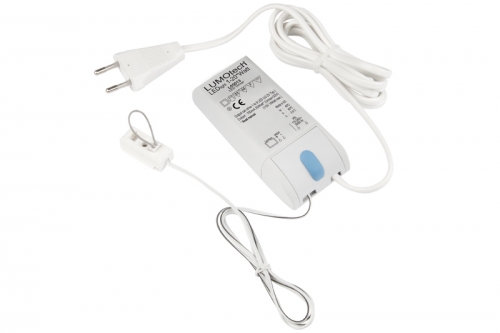 Article code: L05013iNS - Brand Lumotech
High power factor.

The L05013 LED Driver can deliver a current of 700mA.

Mains cord and Lumoluce connection box included.

SELV-equivalent.

Fourfold protection: Thermal, short circuit, over voltage and open circuit.

To use with LED without internal current regulation only.
   Before using a driver always read the manual first which is included with the driver package!
Specifications
Type:   

Constant current 

Current output:      

700mA

   

Power output:        

230V: Max.20W / 110V: Max.15W

Mains voltage:

110/240V 50/60Hz

 

Dimmable:   

No

Weight:   

200gr

Size:

Ø

111x52x44mm

Power factor (λ):   

0,9C

Max. temperature (tc):    

<85°C

Ambient temperature (ta): 

-20 to +50°C

Approvals:

KEMAKEUR, ENEC 05, CE

Fourfold protection: 

Thermal, short circuit, over voltage and open circuit